by Dante Fumo
Who doesn't love free stuff? If you're a podcaster, YouTuber, or video editor who just needs a handful of sound effects for your production, finding them for free is almost a no-brainer – almost.
While you may be able to find a good variety of sounds for free, there are situations where paying for quality sound effects is the better choice. With clear and easy licensing, guaranteed quality standards, multiple variations, and detailed metadata, paid sound effects can make your life much easier if you've got the budget. There are several factors that will influence whether it makes more sense to seek out free sound effects downloads or invest in paid sound effects. Here, we'll explain the differences between the two so you can draw your own conclusions and decide if it's worth it for you to buy sound effects.


Quality and Consistency
When looking for sound effects, quality should be top-of-mind. After all, what good is an explosion sound missing the bass rumble, a delicate birdsong squashed by compression, or an ambulance siren with a chatty crowd in the background? When considering whether to use free or paid sound effects, you'll need to weigh the importance of cost versus quality.
When it comes to quality, free sound effects are a mixed bag – though there are professionally made free libraries of outstanding quality, there are also many amateur-made sound effects out there with low sample rates, limited dynamic range, and compressed formats such as mp3. If free sound effects are what you're after, go to a reputable source such as the SoundQ Free Library. In a pinch, you can find a good variety of sounds via the Freesound.org database within SoundQ, but keep in mind that there is no quality standard for these crowdsourced sound effects.
When paying for sound effects, quality is one of the main things you get for your money. Most paid sound effects will come in Broadcast Wave format with a minimum sample rate of 48 kHz and bit depth of 24 (although many have higher sample rates, which helps maintain fidelity when editing and processing sounds). Additionally, these premium assets are made by professional recordists and sound designers who take care to make sure that every file is cleanly edited, full-sounding, and doesn't have excess background noise.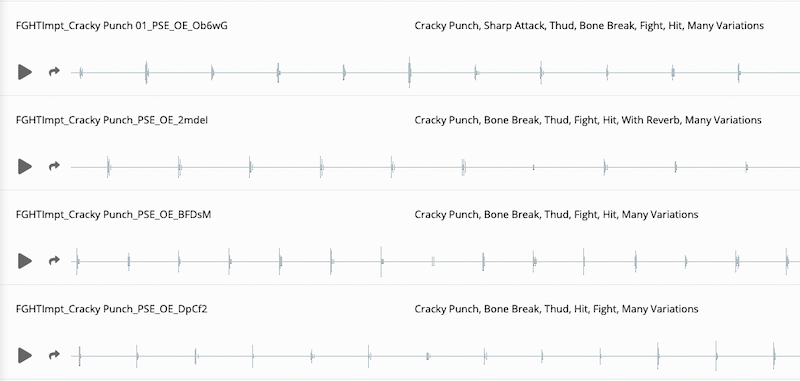 Paid sound effects often include multiple variations, which is useful for repetitive sounds.
Variation
If you need a sound for something repetitive like footsteps, typing, or gunshots, you're going to want several variations of the same sound effect. This keeps the sound from getting too repetitive, which helps increase immersion and make it more tolerable to listen to repeatedly. Even if you just need a single sound, having multiple variations ensures that you'll find the right one for the situation.
Free sound effects are typically intended for quickly dropping into a project, so they usually don't include variations. That means that if you're cutting a fight scene, you'll be forced to either use the same punch sound over and over, or use six different punch sounds from six different sources, neither of which is a great option. Instead, you could simply search "punch" on Pro Sound Effects and choose from hundreds of files organized into batches where you can find dozens of files from the same recording session for consistent sound.
Variations are also important when you need to match different sounds from the same source, such as cheering and booing from the same crowd, or the door, engine, and horn sounds of the same car. Instead of finding each element individually on a free stock sound effects site, you'd be much better off purchasing a single crowd recording with all the reactions you need, or a comprehensive vehicle library containing all the sounds made by a specific car.


Licensing
When it comes to sound effects, free does not always mean "no strings attached." In order to legally use a sound effect you didn't create, you must have a license. There are many types of sound effects licenses – some give you permission to use a sound however you want, while others require you to credit the creator, limit use in commercial works, or even restrict you from altering the original sound.
Free sound effects are typically offered under Creative Commons licenses, of which there are several types. The best one to look for is CC0, which means you can freely use the asset without any restrictions. However, many free sound effects use CC-BY, which means you must give attribution in the credits, or CC-BY-ND, which means you also cannot alter the sound effect. Read up on all the different types of Creative Commons Licenses here.
When buying sound effects, on the other hand, your purchase typically includes a full blanket license to use the material in most commercial projects without worrying about attribution or derivation (Pro Sound Effects even offers multi-user licenses for teams). This lets you focus on creatively using sound effects rather than worrying about DMCA notices and takedowns. While "royalty-free sound effects" is a popular search term, neither free nor paid sound effects typically collect royalties – the most you'll pay is a one-time fee or a recurring subscription if you use a service like SoundQ. And even if you cancel your SoundQ subscription, any sound effects you used while subscribing are still licensed forever.
When browsing free or paid sound effects, look for organized file names and logical metadata.



Organization and Metadata
One of the biggest differences between free and paid sound effects isn't related to sound at all. Rather, it's their metadata and searchability that set them apart. When buying from top sound effects websites, part of what you get for your money is thoughtful file naming and metadata that help you quickly find the sounds you need in the moment.
All new Pro Sound Effects libraries (and many of the older ones) use filenames based on the Universal Category System, which organizes them into consistent categories with easily searchable names. Looking for a construction site ambience? Start by searching "AMBCnst." This filters out other construction-related sounds like saws, drills, and heavy machinery, providing you with only relevant results so you can focus on finding the perfect ambience for your scene. Then, you can start adding additional elements by searching other terms like TOOLpwr for power tools, VEHCnst for construction vehicles, and so on.
Aside from clear file names, professional sound effects have another major advantage: metadata. Metadata is extra information attached to the file including additional description text for better search results, sample rate and bit depth, microphones used, location (for field recordings), languages (for walla), BPM (for music), and more. By contrast, free sound effects can be hit-or-miss when it comes to organization. Free libraries from reputable sources may have professional file names and metadata, but they are outnumbered by countless amateur sound effects with inconsistent organization.


The Choice is Yours
Ultimately, only you can decide whether free sound effects will get the job done or if it's worth investing in paid sound effects. If your budget is tight and you only need a handful of common sound effects, free is the obvious choice. However, if you need guaranteed consistency, variety, and ease of use, it's probably worth buying sound effects. And If you're not sure where to start, you can get the best of both worlds with the SoundQ Free Library from Pro Sound Effects – just download the app, create an account, and select the Free plan.
For more sound effects tips, be sure to read our articles on How to Find the Right Sound Effects, How to Use Sound Effects, and the Top 6 Audio Problems in YouTube Videos.
---
Dante Fumo is a Minnesota-based freelance sound designer, editor, and mixer with more than a decade of experience working with sound. In addition to his audio work, Dante composes instrumental music that incorporates sound design and spatial audio.