by Andrew Emge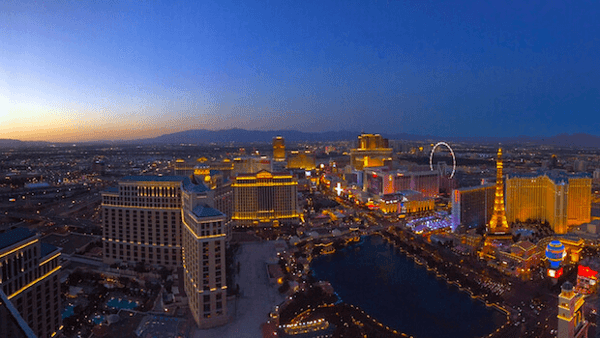 Team PSE is back from a wild week in Las Vegas sponsoring Avid Connect 2015 and exhibiting at NAB Show 2015!
We had a blast at both shows and were honored to be a part of them. We met tons of new content creators and got the chance to reconnect with plenty of old pals. Thank you to everyone who stopped by at either show! Here's a recap of what we were up to:
Avid Connect 2015
Our first stop was Caesar's Palace where members of the Avid Customer Association joined forces for Avid Connect 2015.
Pro Sound Effects was the proud sponsor of the "Audio Creative Teams & Individual Artists" Educational Session. Discussion topics included the future of audio production, evolving workflows for post and pro mixing, and more.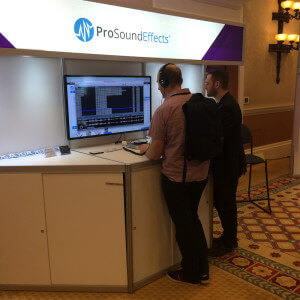 PSE Licensing Specialist Jeremy Siegel demoing sound effects using Soundminer
NAB Show 2015
Then we hit the Las Vegas Convention Center for the annual NAB Show, where companies from all broadcast-related industries come together to share information and new technology.
Pro Sound Effects has been at NAB in some form or another for the past 10 years. With 1,700+ exhibiting companies and 97,000+ attendees this year, we had tons of media professionals asking us for something new in the world of sound effects libraries -- and we couldn't wait to show them what we've been working on.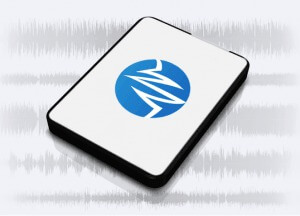 Master Library 2.0
At NAB Show we announced the release of the biggest, baddest version of our biggest, baddest library to date: The Master Library 2.0.
With 30,000+ new sound effects, this enormous general library now totals around 175,000 sound effects from 10+ recordist catalogs. We also unveiled brand new pricing options such as annual licensing. Check out more details of what's new with the Master Library 2.0 here.
NYC Ambisonics
Recorded by PSE Librarian & Curator David Forshee along with freelance recordist Laura Cunningham, NYC Ambisonics is a library of 4-channel surround New York City ambiences. Users can then manipulate the spacial qualities of each ambience using a plug-in built and designed by Soundfield TSL. Needless to say it's pretty Next Level and we're excited to share more about it -- stay tuned!
Hybrid Library Giveaway
Congratulations to the winner of the Hybrid Library Giveaway, Jillian Kuchman! Check out her website here. The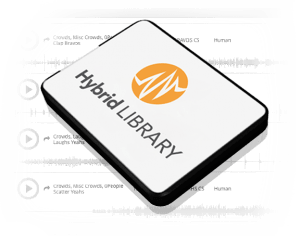 Hybrid Library is a massive general library for freelancers and independents with 56,000+ sound effects including
online access and free updates for life. It looks like Jillian is already off to a great start in sound design and editing, and
we're certain the Hybrid Library will only enhance her sonic palette for all future projects.
And, in case you missed it, Pro Sound Effects was recently featured in a Mix Magazine article exploring the current state and future of sound effects libraries -- learn more here!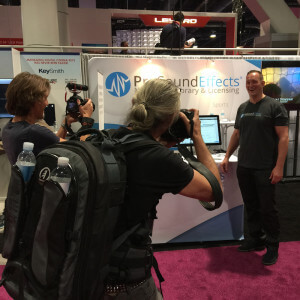 PSE Founder & President Douglas Price getting some love from the press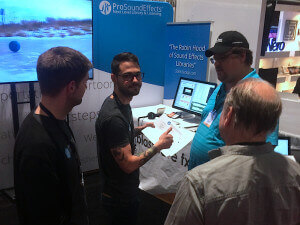 PSE Special Guest Joe DiMarco says it's all good!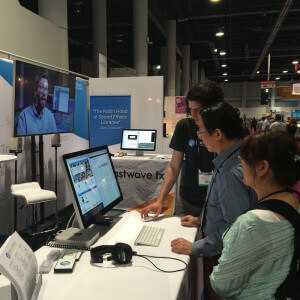 PSE Operations Specialist Andrew Emge demoing the Online Library at download.prosoundeffects.com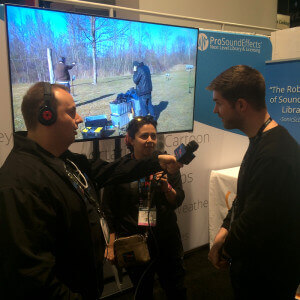 David Forshee being interviewed by Going POSTal (www.goingpostalshow.com)
Thanks again to everyone who stopped by our booths. Be sure to keep up with PSE on Twitter, Facebook, & LinkedIn for industry news and new releases!