by Korey Pereira
Get tips for capturing immersive 3D audio recordings with the AMBEO VR.
In the growing landscape of spatial audio, we want our users to have access to the best resources available. We recently launched our VR Field Recording Giveaway featuring state-of-the-art 3D audio tools from Sennheiser, Zoom, and BaseHead along with our own Ambisonics libraries. Enter the giveaway to boost your VR audio from inspiration to capture and retrieval:
Not sure what the Ambisonics format is all about? We asked sound designer and mixer at Soularity Sound, Korey Pereira, to explain the benefits of Ambisonic recordings and how you can create your own with the Sennheiser AMBEO VR Mic.
Check out Korey's recording tips in the video above and a summary of his points below.
---
What is an Ambisonic microphone?
An Ambisonic mic is a special microphone with four capsules in a tetrahedral arrangement allowing you to capture the sound of a space in three dimensions.
How are Ambisonic recordings helpful in my projects?
Ambisonics not only give me a super immersive track when I mix in surround, but decoding the files allows you to interpret and change the orientation of the recording to match the perspective of the scene.
How are Ambisonic recordings used in VR audio applications?
When you're recording audio for VR 360, you can place the Ambisonic mic (like your Sennheiser AMBEO VR) directly under the 360 camera. Then, in post, when you add that Ambisonic recording and use a VR headset like the Oculus, it allows you to move around with a VR headset and the audio will track the direction you're looking.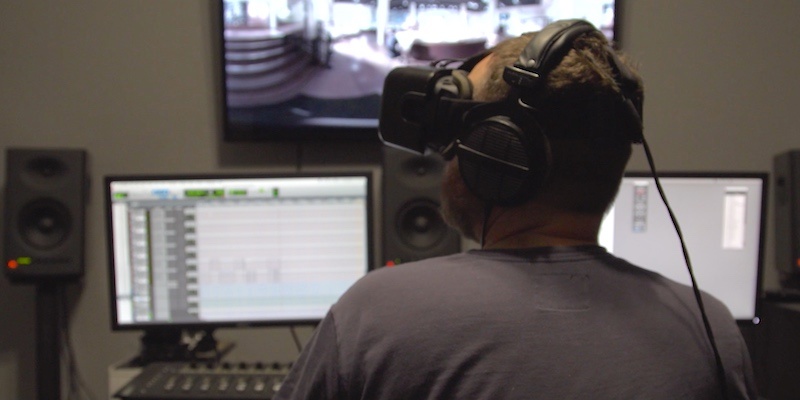 How do I record with an Ambisonic mic?
First of all, you want to keep track of the orientation of the mic. In general, I always try to record with the microphone pointed straight up. However, most decoding software will also support other end fire or upside-down orientation. You want to make sure to note this, because when you're decoding the recordings, if you don't choose the right setting, it won't sound right.
If you're recording outside, it's always important to have some sort of wind protection. My wind protection of choice for the AMBEO VR is the Rycote Baby Ball Gag and Windjammer because it has a really small profile which I like a lot.
Do I need a special recorder?
When choosing a recorder, make sure it has four XLR inputs with phantom power and that you're able to digitally link the inputs so that you can control them all at the same time. This is really important when it comes to decoding, because you want to make sure everything is recorded at the same level.
How do I monitor properly when I'm recording?
It's important to remember that we, as humans, make a lot of noise. For this reason, I've set up a way to wirelessly monitor my recordings. To do this, I use the CL-WiFi app with the 788T on my iPad and a Sennheiser IFB Receiver, so that I can step back from my recording setup but still hear what's going on and start and stop recordings remotely.
This is definitely one advantage of using the Zoom F4 or F8 recorders because they have built-in support for the AMBEO VR that allows you to decode the signal to a stereo output. So using the same setup I'm using now, I could actually listen to a stereo decode of the recording in real-time.
How do I decode and use the Ambisonic recordings?
Using the free Sennheiser AMBEO A to B Converter, you can convert your Ambisonic recordings from Ambisonic A-format to B-format which is then compatible with plugins like the SoundField SurroundZone2 for film.
Or, if you're doing work for 360, you can use the Facebook 360 platform to natively take those B-format recordings and integrate them into your 360 videos.
If you want more advanced control of this decoding process, you can also use the Harpex-X plugin, which gives you a lot more control of how it decodes, as well as supports immersive formats like Dolby Atmos with overhead channels.
---
Korey Pereira is the Owner and Creative Director at Soularity Sound, an Austin-based post production company. He also works as a sound editor and mixer at other Austin post facilities such as Soundcrafter, with which his credits include Richard Linklater's Boyhood and Everybody Wants Some, as well as TV shows such as Shipping Wars and My 600lb Life. Follow @SoularitySound on Twitter.