by Natalia Saavedra Brychcy
Discover the best websites, books, and other resources to boost your sound editorial knowledge and advance your audio post career.
In an ever-changing industry, it's important to always be learning. Fortunately, in today's information age, helpful resources are easier to access than ever before. A good way to keep yourself up-to-date on the sound post industry is to regularly dive into different articles, books, blog posts, videos, podcasts, etc.
But where do you start? Well, you're already on the Pro Sound Effects Blog which is definitely a great place to learn! Other than that, here are 8 resources that have been helpful for me since I started my career in sound editorial.
---

1. SoundWorks Collection videos and podcasts
SoundWorks Collection was one of the first resources I had before starting a career in post sound. Their videos are an excellent way of learning how the sound design process for different films is done. In the last couple of years they have also implemented podcasts with interviews, panels and discussions with different industry professionals, making it a great resource to learn from.
2. Tonebenders Podcast
The Tonebenders Podcast is an amazing way to gain insight from some of the biggest industry professionals. In these podcasts, they discuss details from the work of high profile sound designers within the industry and around the world. Every interview is different, which makes them all interesting and dynamic. This is a great resource to learn about the sound design process and specific problem solving, coming from the pros themselves. You can always find something new to help you in your sound editorial.

3. Indepth Sound Design
Indepth Sound Design is a great resource for you to see the sound from your favorite films and TV shows deconstructed. They also have an Instagram account where you can swipe through the videos to see the different layers of sound of each clip. I love this site because it makes it easy to identify and point out sounds within a soundtrack through the isolated layers. They also have videos with commentary from the sound designers about the films they worked on, explaining their process in detail. It's a great place to get inspired.
4. Designing Sound articles
Sadly, Designing Sound closed down its activity earlier this year. BUT the good news is that we can still access it (yay!). There won't be any new articles, which is unfortunate because this was a great site for staying up to date on trends and techniques of sound design around the world, but you can still access reviews of existing plug-ins, learn about innovative ways to record different types of sounds, and much more. It is a great resource to get creative inspiration for your sound editorial.

5. Audio-Vision: Sound On Screen
Audio-Vision: Sound on Screen is a book written by French composer Michel Chion that analyzes the relationship between sound and image through story to help you understand the purpose of sound in film. Knowing how to do sound design with meaning is essential to be a great sound designer, and that way excel in your sound editorial. The book's non-technical language makes it a great read for anyone who is trying to get into sound for film.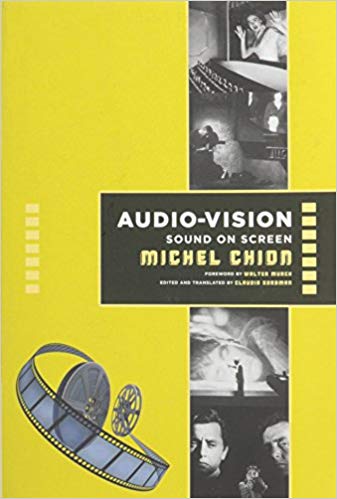 6. FilmSound.org
FilmSound.org, created by Sven E Carlsson, is an amazing place to find articles from different industry professionals. It's sole purpose is to share the art of sound design in film, so you can find articles aimed both at people that are starting their career, and at those who already have industry experience. There is always something in this website that helps you expand your knowledge about sound in film.

7. Dialogue Editing for Motion Pictures – YouTube Playlist by José Luis Díaz
For more technical aspects of sound, the Dialogue Editing for Motion Pictures playlist created by José Luis Díaz is a great way to start to learn how the editorial process for dialogue works. This step-by-step guide is ideal for beginners as it explains in detail with visual examples to get a better understanding of dialogue editorial.
8. Film Sound Tutorials – YouTube Channel
Another great site is the Film Sound Tutorials YouTube Channel. If you're looking into post-production sound, this is a great starting point. Like the name says, the tutorials of this channel will guide you through the different workflows sound editors and mixers use in a professional setting.
---

Natalia Saavedra Brychcy is a Los Angeles based freelance sound designer. For over 4 years, she has been working on a wide array of projects for television and film, from all over the world.