Academy Award®-winning sound editors to release exclusive world-class sound effects libraries.
In an ongoing collaboration, Pro Sound Effects is teaming up with two award-winning post audio veterans, Mark Mangini (Mad Max: Fury Road, The Fifth Element & more) and Richard L. Anderson (The Lion King, Raiders of the Lost Ark & more), to release exclusive sound effects libraries.
The libraries include around 100,000 sounds from Mangini and Anderson's private collection of recordings encompassing over 30 years of feature film sound.
Create beyond your imagination with The Odyssey Collection.

"Richard and I believe sound designers will love having this library at their fingertips, giving them full access to high quality, carefully recorded, and impeccably organized professional sound effects that have been instrumental to our own success. We still use these sounds every day on award-winning films and current projects." - Mark Mangini
Mark Mangini ©A.M.P.A.S.®

Richard L. Anderson

©A.M.P.A.S.®

Legendary libraries you've heard before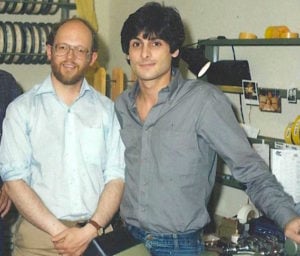 Anderson & Mangini in the '80s
The soon-to-be-released sound libraries include material from Mangini and Anderson's endlessly growing personal recording collection which continues to support their fruitful careers in the audio post industry.
In addition to a long list of credits enviable for any sound professional, Mangini won the 2016 Academy Award® for Best Sound Editing for Mad Max: Fury Road. Other credits include The Fifth Element, Aladdin, and Star Trek IV: The Voyage Home.
Richard L. Anderson has also won and been nominated for multiple awards including a 1982 Special Achievement Academy Award® for Sound Effects Editing on Raiders of the Lost Ark (before Sound Editing was a permanent award category). Anderson's credits are substantial as well including such standouts as The Lion King, Edward Scissorhands, and Predator
Video credit: Zackery Ramos-Taylor