by Vanessa Flores
Get insider tips and tricks for freelancers and creators on networking and getting gigs through Instagram.
We're in a new age of networking. Gone are the days of attending costly event after event, handing forgotten business cards to anyone who would take them – in the time of COVID, it's not a viable option anymore.
Consequentially, you are now looking for new ways to get yourself out there online using social media. Luckily for you, I will reveal everything I know about how to market yourself on Instagram.
First, a bit about me! My name is Vanessa Flores. I'm a Sound Editor and Re-Recording Mixer based out in Burbank, CA. Maybe you've seen my Sound Design Timeline Breakdowns around on Instagram, Twitter, LinkedIn, or YouTube. I've been creating "edu-tainment" content since early 2020, and I can still not process all the opportunities that came my way because of it. I have cultivated a community of over 20,000 creatives that's steadily growing.
I teach soundies and filmmakers how to create better audio and advanced workflows. But it didn't start that way. Initially, I went in intending to get work with filmmakers. And I was successful in that mission! Then, unpredictably, I was getting calls from Re-Recording Mixers, studio owners, and Post Sound Directors ranging from boutique studios to Warner Bros and Sony Picture Studios. To this day, I get approached for subcontract work.
Showing up online works. Really works. And it wasn't because I got lucky. It was all by meticulous design. I will show to you how to optimize your Instagram profile to stand out, what kind of content to create, how to create that content, and how to interact with the leads you get.
1. Create a profile
First things first, you have to optimize your profile. Let's audit this current profile together: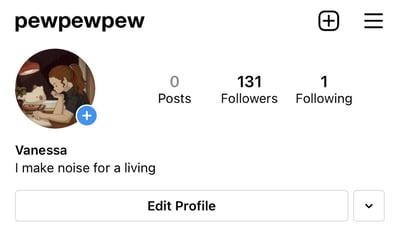 The immediate impression will be your username and profile picture. For example, if you are a freelancer, have your username be your first name and "audio," "sound," "composer," "music," - whatever your expertise is! Why your first name? You want to be social on social media, so be inviting and start off on a first-name basis. To make it easier on the eyes, I recommend putting a break between your name and the one-word identifier proceeding it. For example, I add a period between "Vanny" and "Audio" leading to the username @vanny.audio. You could use an underscore or whatever you want, as well.
Next is the profile picture. You want a clear, well-lit photo of your face, typically head-on or a 3/4th profile view. If you do not have a picture of yourself already that meets that criteria, don't think you need to pay for headshots – your smartphone camera can do wonders these days! Switch to portrait mode, go outside, and have your partner or a friend get your good side and snap a couple of pics. After you pick a photo of yourself that you like, go to pfpmaker.com. Upload the image and remove the existing background, and replace it with a solid color of your choice, typically one associated with your branding colors. You want something that stands out, so I would err on brighter colors. You could also snap a pic of you in your studio, but prioritize that your profile picture shows your face as much as possible.
If you're making an account for your studio, stick to the username being your studio name and the profile picture of your logo. Avoid any words in the pic; no one can read it anyway. Suppose you're the sole worker of the studio. In that case, I strongly suggest you keep it as personal as possible with having a profile picture of yourself. Again, be social on social media.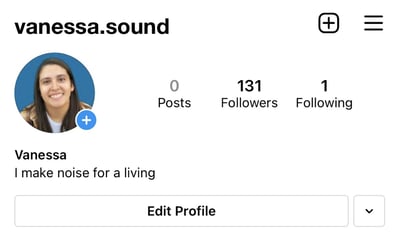 Once your username and profile picture piques your ideal client's interest, now you have to optimize your bio.
2. Cover your skills
In your bio, you should have your name and then whatever SEO (Search Engine Optimization) keyword is related to your primary service. For example, Vanessa Flores | Sound Design. Doing this allows you to come up with an Instagram search. The keyword should be whatever your area of expertise is.
Next, the bio should cover these four questions: How do you solve someone's problem? What's your proof of expertise? Where are you based? How can they find out more about you and your services?
So take out that "I make noise for a living" and instead try this formula:
"I help (ideal clients) get (desired result)."
Proof of expertise can be higher education alumni, any sound awards won or nominated, number of credits you have on IMDb, certifications you have, whatever you think makes the other person on the side of the screen confident that, for lack of better words, you know your shit.
This is what we have now on our Instagram profile makeover: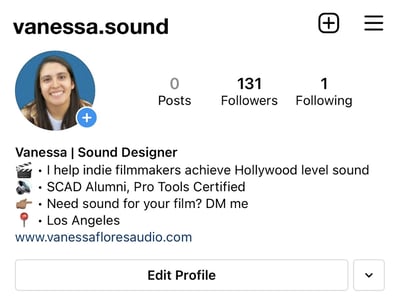 Now tell me, who would you entrust more to work on your film project?
3. Optimize your grid
We've now attracted our ideal client to check us out; what else should we use to entice them?
I strongly recommend ditching the pictures of your setup and publicly displaying what you've done.
You can Show timeline views with source video of a recent piece you've worked on: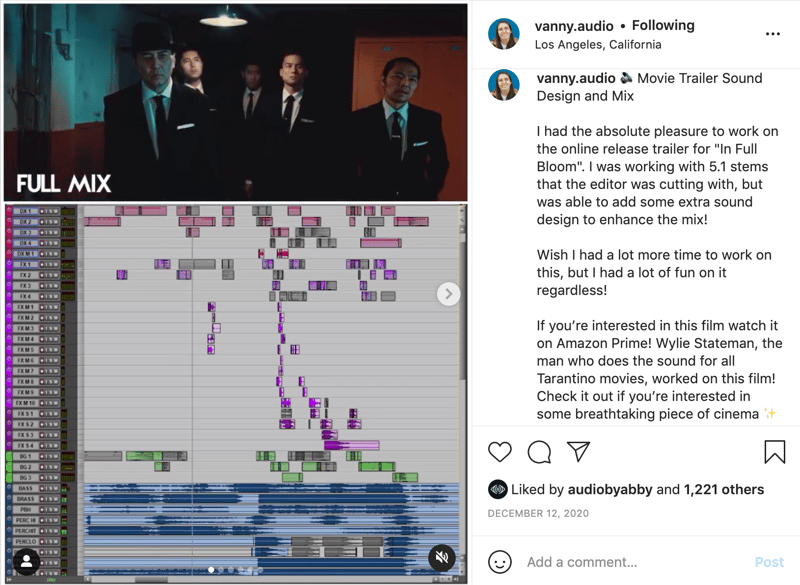 ---

You can
Show time-lapses of you working: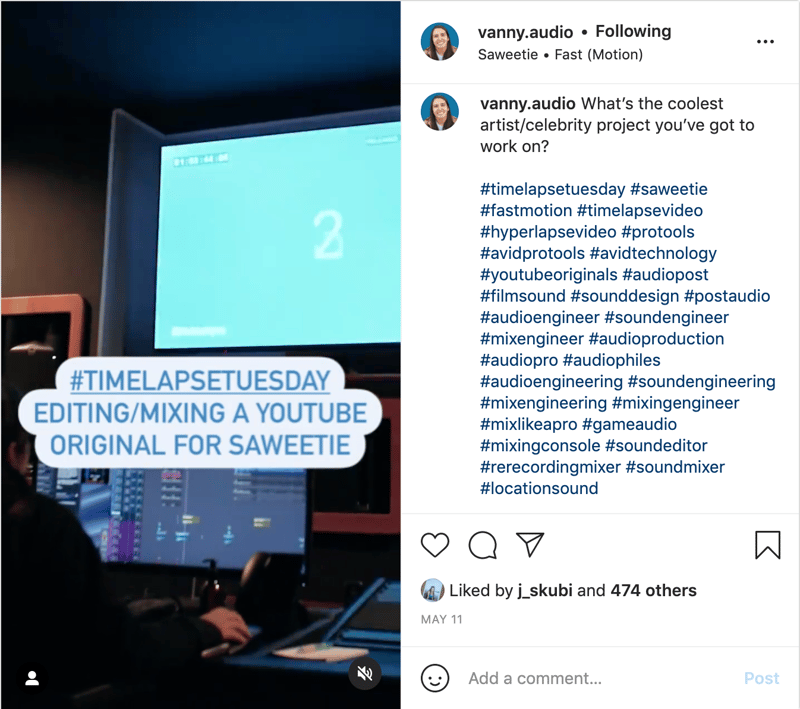 ---

You can Show before and afters: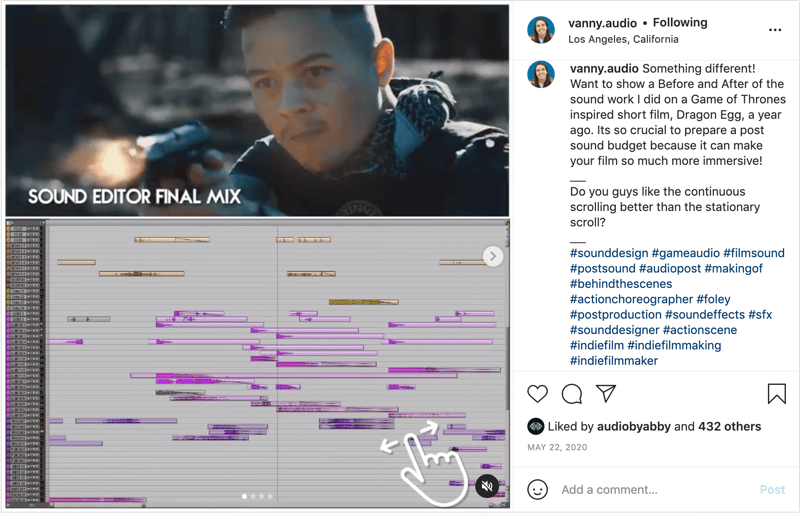 ---

You can Show breakdowns of intricate sound design pieces: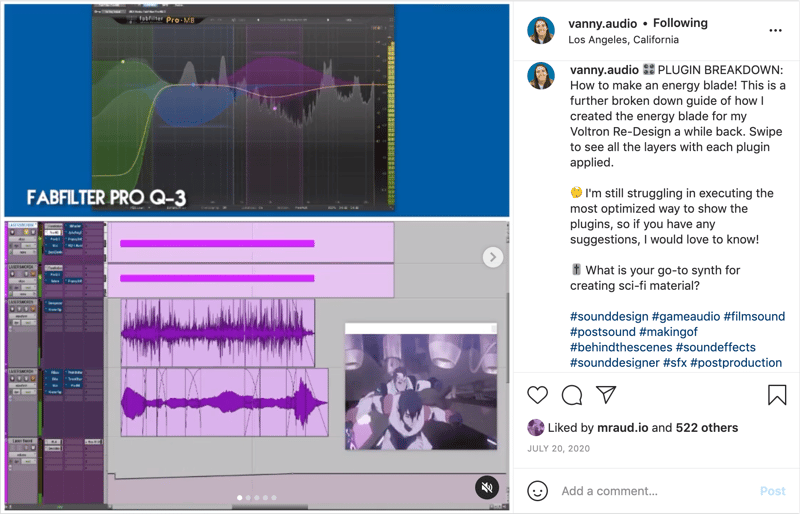 Any of these options are more eye-grabbing than reposting the video of your work or pictures of your Pro Tools setup. So leave that to your Instagram stories. Instead, keep your feed like a second portfolio. And if you're unsure how to make these videos, don't worry;
I've already got you covered.
But wait, there's more I can teach you! Let's talk about hashtag research next.
4. Don't underestimate hashtags
The most common mistake I see soundies making on their social profiles is not catering to their ideal audience. Don't cater your hashtags to ALL sound-related ones for every post if you want to be discovered. Filmmakers/game developers are not in those spaces, only other sound people. That is not your target audience.
Instead, include general post-production, filmmaking, and game development hashtags. You want to occupy the space where your potential client will be following. It's a good breakup from seeing the usual content that is included in those hashtags. And with your optimized profile now, you can entice them to look further into you.
Don't know what hashtags to use? Here are some ones to start with:
Film Sound - #postproduction #postproductionlife #directorslife #filmdirector #indiefilmmaking #indiefilmmaker #indiefilmhustle #filmproducer #learnfilmmaking
Game Audio - #gamedevelopment #gamedeveloper #gamedevelopers #gamedevlife #gamedevs #gamedesigner
All the work you've done to set up your social profile has worked! A potential client is interested in your services! So, where do we go from here?
Here's what I recommend:
5. Get in touch
Have them direct message (DM) you for inquiries. Include your email in your bio as an option, but in my experience, they always go straight for the DM. It's convenient for them. Once they reach out to you with a possible project to hop on, immediately look through their profile if it's public. More often than not, they showcase their work as well. Take in what their style is and the type of content they produce. Anything that stands out to you – make a mental note of it.
Then go back and send a voice message response. Again, this creates a more personal touch. Leave formality to the emails. I know it might seem a little nerve-wracking to some of you, but I'll re-emphasize that you need to be social on social media. You warm up your leads by being friendly and inviting. This is an excellent opportunity to show your personality and build stronger connections by not acting like a service but a future longtime collaborator.
This first introduction should be you thanking them for reaching out and immediately complimenting them about any of their posted work that stood out to you. Don't make it sound vague — the more specific, the better.
Here's a little script for you:
"Hey, Nick! Thank you so much for reaching out and considering me to bring your sonic vision to life! I really love that soda product commercial you did a while back. The pacing was incredibly spot-on, and the lighting was fantastic with the color grade bringing it home!"
Proceed with any specific questions to better understand what they need for their project. Then, you can invite them to have a call about it. Or you can move them to an email correspondence for better management. Whatever you decide to do after the fact is up to you. I advise that you make your first impression an exuberant and confident one.
You got the lead; you landed the client; you had a fantastic collaboration. Now what?
6. Credit yourself
When the filmmaker shares this project on their social media, ensure they tag you in it (you can enforce this in your contract). Why is this important? It allows their followers, who are most likely their circle of colleagues, to look into your work as well — passive networking.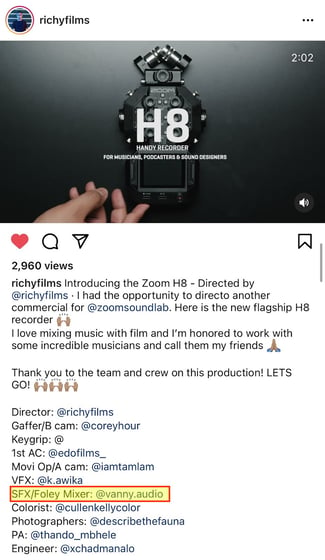 You also want to repurpose this project as another piece of social media content (have that in your contract). The aim is for the post to reach another potential client. The cycle continues with every new project.
Don't be afraid to put yourself out there, there are limitless opportunities and projects to be involved in and you never know when a successful social media presence may come in handy. A professional instagram profile works as a perfect portfolio to showcase your work and your skills to an enormous audience.
---


Vanessa Flores is a sound editor & designer based in California.
Follow Vanessa: Website | Twitter | Instagram | YouTube | IMDb
---
Want more career and networking tips? See these related articles:
Top 5 Tips for Networking as a Sound Artist
How to Network in a Time of Social Distancing