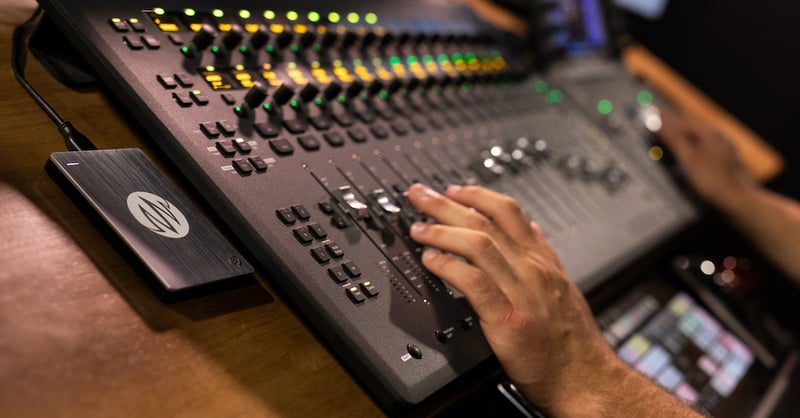 See why sound effects rich with cinematic character and descriptive embedded metadata are helping empower creators more than ever.
Since we first partnered with Academy Award®-winning sound artists Mark Mangini and Richard L. Anderson to create The Odyssey Collection, we knew these sounds were special. As we developed material from Mangini and Anderson's private collection and released curated Odyssey libraries like Essentials, Expanded, and Vehicles, the power of these sounds only became more clear with the feedback we received:



"Extremely useful. All I have to do is type in 'ODY' and I know I will find something fresh, unique, and most importantly CINEMATIC. Everything in the library is very high quality."
Robert Stambler – Venom (Sound Designer), The Cloverfield Paradox (Supervising Sound Editor)
With sounds captured for more than 250 feature films and shows by two masters of the craft, Odyssey has been inspiring sound artists to expand and hone their sonic palette with the highest quality cinematic ingredients available.
In March of 2019, we released Odyssey Complete which delivered the complete general library of 100,000 sound effects developed from the entirety of Mangini and Anderson's private collection – including over 50,000 never-before-released sounds. As we prepared for the big release, we decided to check in with sound artists to learn how their Odyssey library fits into their workflow. See their thoughts below:
---

Create beyond your imagination with The Odyssey Collection.
---
"There is so much character present in the sounds themselves in this library. This is important because often when choosing the 'right' sound, we need it to cut through a mix filled with other 'right' sounds — this means having unique and defining textures that will act as a voice for whatever you're designing or cutting against. The expressive character helps to give emotional characteristics to the things we're designing."
Matt Yocum – Sound Effects Editor, Re-Recording Mixer
Go-to categories:
Ambiences, Crowds, Explosions, Animals, Gore, Sirens, Motors, Voices
What I've used it on so far:
Cloverfield Paradox
A Dog's Journey
Overlord
Pet Sematary
The Lego Movie 2: The Second Part
Detective Pikachu
---

"The Odyssey library is my go to 'first responder' when building out a scene. The organization of metadata married with professional recordings by some of the finest in the business make it easier and more efficient than ever to find quality sounds that enhance the creative process."
Micah Loken – Dialogue Editor, Re-Recording Mixer
What I've used it on so far:
Everything I help cut SFX on.


---

"Since getting the Odyssey Collection, I have been finding great, high-quality sound effects that I was never finding before from other general sound effects libraries. The metadata in the Odyssey library is so rich that searching for effects is a breeze and helpful to discover new sound effects while on a creative search. There are so many hidden gems — if you are searching for a certain sound, its most likely in the Odyssey library."
Geraldo Gutierrez – Supervising Sound Editor, Re-Recording Mixer
What I've used it on so far:
Guilty Party Season 2
QB1 Beyond the Lights Season 2
Mr Talented
Down & Out
What Happened to Earl
Monsoon
---

"The quality of sounds is exceptional, and the selections in various categories are imaginative. Compared to sites where you can license/download individual sounds, Odyssey commands a towering presence."
Katherine Whitlock – Writer/Author, Activist
Go-to categories:
Doors, electrical sounds, birds, ambience
What I've used it on so far:
Upcoming podcasts


---

"In truth, I felt as though my audio library had become stagnant and lacked the variation I needed to fully express the stories I wanted to tell. Now, with the Odyssey Library I don't feel this worry at all. I'll spend hours in my spare time reading through the metadata of files to see what specific keywords I can look for in the future, should I need to call on them. Vast amounts of sounds with unmatched audio quality for my needs."
James Muckle – 3D Animator, YouTuber
Go-to categories:
Cartoon, Whooshes - Bys, Whooshes - Impact, Whooshes - Misc, Whooshes - Reverse, Subwoofer
What I've used it on so far:
Any upcoming videos on my Youtube channel, Blue Monkey
---

"Great quality recordings that have been edited and archived in a way that makes it easy for me to locate the effects I need for my projects. There's loads of variety too. Definitely worth the purchase."
Melissa Yenty – Sound Editor

Go-to categories:
Ambience, Crowd, Explosions, Vehicles.
What I've used it on so far:
Mostly adverts, promos, corporate videos and documentaries.


---

"I love the diversity of sounds — it really helped me in my first year as a sound engineer. I literally wouldn't have been able to make a living without it. The quality of the recordings, the meticulous and precise descriptions and names of the files are also exceptional and makes my work so much easier and fun. Worth every penny."
Tobias Falk – Sound Editor
Go-to categories:
Mostly common stuff like doors, room tones, backgrounds and cars. At the moment I work as a Foley artist, so the sounds in the Foley categories can often be helpful when I don't have the time or the resources to create it myself.
What I've used it on so far:
A Haunting at Silver Falls 2
Nyfiken in Sweden
---

"The material included in the library is very well recorded and preserved, but most importantly, the sound effects own such a cinematic character and an executed intention behind them. Every time I use them I'm pleasantly surprised and amazed on how well they fit the picture and give an edge to the storytelling. The metadata included is detailed and makes the search through the library easy and quick."
Marco Lopez – Sound Effects Editor

What I've used it on so far:
Springfloden (Season 2)
---


"A lot of other libraries are filled with sounds that are 'not quite right' and you end up using the few 'good' sounds over and over. The Odyssey Collection is chock full of useable options."
Glenn Eanes – Re-Recording Mixer
Go-to categories:
Ambience & backgrounds, vehicles, Foley props
What I've used it on so far:
Where'd You Go, Bernadette
---

"I love that the material is all very distinctive and has character without being overbearing in its presentation, allowing smooth integration into almost any project of any style or genre. This defining quality of The Odyssey Collection often makes it the first library I specifically search when I encounter a challenging moment to design."
Kevin Senzaki – Sound Designer, Sound Effects Editor
Go-to categories:
Ambiences, whooshes, guns, footsteps

What I've used it on so far:
Anime Crimes Division from RocketJump
Hitman: Sniper Assassin Mode trailer from WB Games
Anime Fast and Furious from Corridor Digital
The End Of The World with Josh Clark podcast by HowStuffWorks