by Jeremy Siegel
Discover how a flexible custom licensing agreement with Pro Sound Effects helped the Beachbody production team achieve greater quality, efficiency, and profitability.
Twenty years ago, Carl Daikeler and Jon Congdon set out on a mission to help people live healthy and fulfilling lives. They founded Beachbody and steadily grew it into a leading provider of fitness, nutrition, and weight-loss programs. Iconic titles like the P90X® Series and Hip Hop Abs®, produce thousands of hours of video and have generated more than $1 billion in sales. When Beachbody needed to step-up their video production game in terms of productivity and profitability, they turned to Pro Sound Effects (PSE).
For Beachbody, video isn't just a way to market their products; in many cases, video IS the product – fitness gear, supplements, coaching, and live events are other top product categories marketed with video produced in-house. Over the years, infomercials and home video (DVD bundles) have expanded to include Video on Demand (VOD), live streaming, social media, and Blu-Ray. Customers are viewing Beachbody content on giant ultra high-definition TVs, small smartphone screens, and everything in between, including tablets, laptops, and event monitors.
With so many projects being pushed through the company's editing bays, it the job of Leslie Hathaway, as Director of Post-Production, to make sure the editing environment is sound, engineering-wise.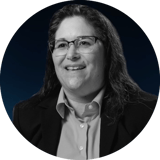 "There's a large emphasis on the production audio aspect for our product and for our videos; whether it's going out for our VOD channel, or it's on social media, we want to make sure that we're giving our customers and our clients the best possible audio," Hathaway told Pro Sound Effects in an exclusive interview. "It's extremely important for us to make sure that we have that really good quality audio; sound effects play a big part in us being able to produce a really clean mix."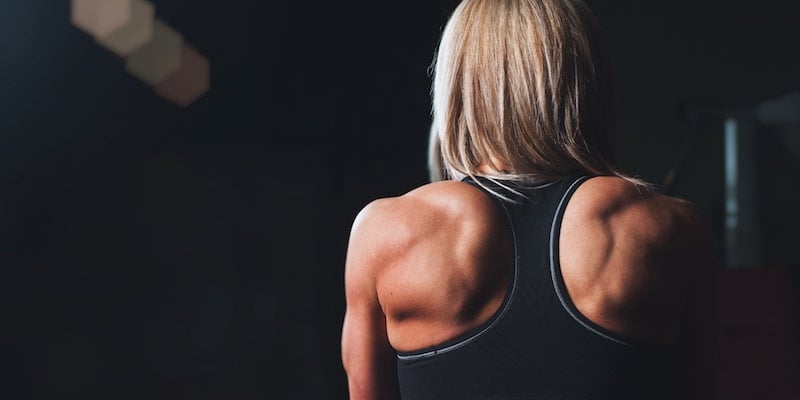 Iconic Beachbody titles like the P90X® Series and Hip Hop Abs®, produce thousands of hours of video and have generated more than $1 billion in sales.
Hathaway oversees the workflow processes for all of the company's edit and Pro Tools bays, continually coming up with new ideas and new workflows so her team can work efficiently. She's constantly making improvements wherever is needed to deliver the best product possible while preserving the company's bottom line.

Most Beachbody sound is mixed in Pro Tools; sound effects and other plugins are used to boost crucial audio elements, sweeten the overall mix, or to get rid of source errors like feedback and background noise. When Hathaway noticed her editors and mixers were struggling with the company's limited and outdated sound effects library, she knew where to turn for a solution.

"Prior to getting the Pro Sound Effects library, we had some sound effects, but not many, and what we did have were fairly old. We found ourselves using the same sound effects over and over and our mixes seemed to be just not that vibrant, based upon the lack of variety of sound effects within the mix," Hathaway told us. "Having worked with Pro Sound Effects for many years [when I was] at other companies, the familiarity that I have with the product and the people with the company already gave me that sense of comfort. I knew that they were going to take care of what we needed, and they were going to be able to set the price point that I was trying to hit. We worked out a custom and flexible licensing agreement to fit within our budget."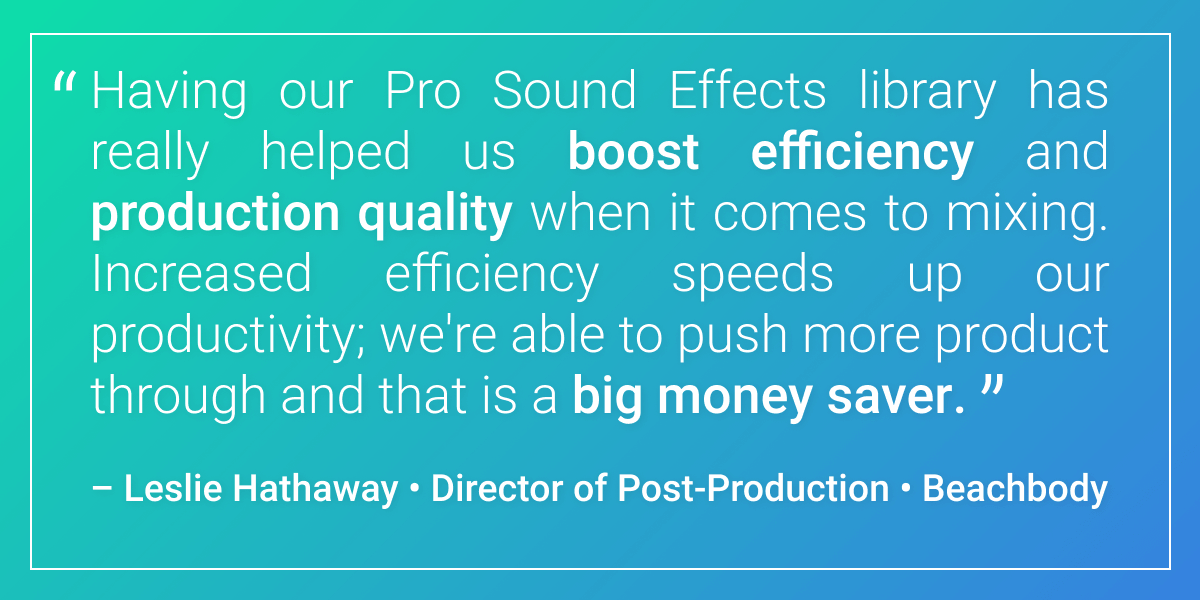 In addition to having more sounds to choose from, Pro Sound Effects also helped streamline the process of finding the right effect for each part of the mix. "We didn't have a way to really search for the sound effects easily. So being able to take the Pro Sound Effects library and merge it into my media asset management system* has made a huge impact on the editors' workflows, enabling them to find those sound effects very quickly, to sample them very quickly, and put them in right where they need to go."
Beachbody's mixers, editors, and their assistants quickly adopted Pro Sound Effects. Prior to this new system, they would often hunt and pick through the server to find sound effects used in prior projects. "They'll go and search for sound effects and try to find something fun, or to make something sound a little more interesting; that frees up the editor and gives them a little bit more time to play with the edit," Hathaway said. "The library is really just blowing their minds."

Thanks to Pro Sound Effects, Beachbody's videos sound better than ever, helping the company to be even more profitable while positively impacting the quality of people's lives. More than 23 million people have bought Beachbody products; the company welcomes more than five million unique visitors to its digital platforms every month. "Having our Pro Sound Effects library has really helped us boost efficiency and production quality when it comes to mixing; it gives us a wider variety of sounds to choose from so that everything doesn't sound the same," Hathaway said. "Increased efficiency speeds up our productivity; we're able to push more product through and that is a big money saver."

To learn more about how PSE can help your company save time and money in post while putting out your best sounding workin audio post check out our Custom Sound Library Solutions for Companies to request a free consultation and quote.
---
*Beachbody uses Levels Beyond Reach Engine. PSE libraries are compatible with any media asset management (MAM) platform and sound effects search software (e.g. Soundminer, Basehead, Source Audio, Soundly, Netmix, Pro Tools Workspace/Soundbase, Nuendo Media Bay, etc.).