by Andrew Emge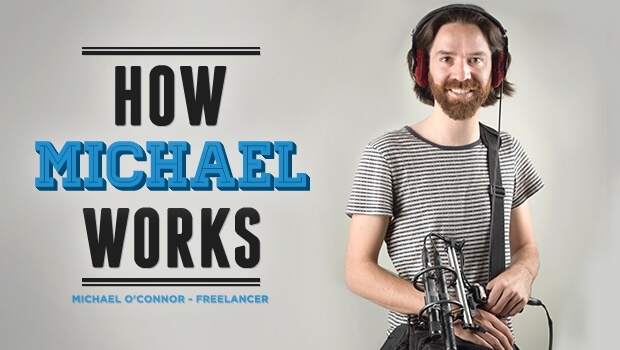 The Pro Sound Effects How I Work series (inspired by Lifehacker) asks Hybrid Library owners what inspires them and what tools and routines help them get work done from day to day.
This interview is How I Work #4 - see the link below for other interviews in the series.
Name: Michael William O'Connor
Occupation: Freelance Sound Designer / Editor / Mixer
Location: Los Angeles, CA
Most Recent Project: Echo Lake (feature film) - Sound Editor
DAW of Choice: Pro Tools
What is your current studio/workspace setup like?
Room:
• 11'x10'x8' studio treated with ten 4'x2'x2" hand-built sound panels placed evenly along the walls and in the corners, filled with Owens Corning 703
• Two 4" thick bass traps that extend floor to ceiling in the back of the room
• 2" thick Auralex foam used as clouds and extra absorption along the walls.
• Mixes made in this relatively small room translate well when taken to larger stages for final mixes.
Workspace:
• Mac Tower OS X 10.6.8 / Processor 2 x 2.8 GHz Quad-Core Intel Xeon / Memory 8GB Ram
• Pro Tools 10 HD
• A pair of Dynaudio BM5a mkII's
• Peripherals: Apogee Duet 2, Avid Mojo, Tascam FW-1082, Wacom Intuos Pro medium tablet, Handshoe mouse
• IK Multimedia iRig Keys USB Keyboard Controller
• Apple Cinema Display as my main monitor
• Vizio 22" monitor mounted above for video
Main Field Recording Rig:
• Roland R-44 Recorder with custom Oade low-noise preamps
• Sound Devices MixPre
• Sennheiser MKH60 and MKH30 (M/S)
• Petrol PS607 Deca bag
• Sony MDR-7506 headphones
• Rode Blimp
• Tons of rechargeable AA's
Secondary/Incognito Recorders:
• Tascam DR-100mkII
• Olympus LS-10
Additional Mics:
• Audio-Technica AT825
• DIY piezo contact mic
• Shure SM58
• Shure Beta52A
• Tram TR-50 lavalier
How long have you been a freelancer?
I've been freelancing since 2010.
What is one thing you know now you wished you had known 5 years ago?
I wish I knew the importance of diversifying my clientele in order to help earn a living. After graduating college I began working mainly on independent narrative projects since I enjoyed the relaxed deadlines which enabled me to focus on my creative side and record nearly all of the material I was implementing (my first feature film consisted entirely of SFX from my own library minus a handful of SFX from other libraries). However, due to limited budgets, I worked a ton and could hardly make a living.
As my contacts grew I eventually branched out into the TV and commercial world (tighter deadlines w/ higher pay). I realized that striking the balance of commercial and narrative work has enabled me to both comfortably earn a living and work on projects where I don't need to rush the creative process.
What software/hardware/gadgets can you not live without?
Software: I couldn't live without Soundminer HD Plus as I will typically have 3 hours to lay in 100-200 SFX for the television work I do. Izotope RX is magical (more about that later).
Gadgets: The Sennheiser MKH60 + MKH30 microphones paired with my Sound Devices MixPre and Rode Blimp enable me to capture industry-standard audio with virtually no noise and with control over the stereo width in post. The microphones handle just about anything I throw at them, whether it's soft wind blowing through trees to jumbo jets roaring by 100 yards away. The limiters on the MixPre are great at handling sudden loudness spikes without distorting the audio, and the blimp eliminates 99% of the wind I encounter.
Where do you find inspiration for your sound design work?
I feel like when I was younger I was mainly inspired by many films, whereas these days my main inspiration comes from life experiences. I am constantly analyzing my sense of hearing and how I might replicate such feelings and moments with my sound design work. I believe that in order to explore new realms of sound design, one must find inspiration outside of the medium they contribute to.
What's your favorite time-saving shortcut/tool?
Izotope's RX3 Advanced audio restoration software, hands down. RX3 paid for itself within weeks after I purchased it by saving me dozens of hours of manually de-noising and de-clicking trashed production audio (my wrist hurts just thinking about the pre-RX3 days). The spectral repair is unbelievably precise when it comes to cleaning and repairing problematic dialogue. It's also great for cleaning sound effects I've recorded in the field (ex. remove bird chirps from automobile recordings).
The most recent version of this plugin is iZotope RX5 -- check it out here.
What's a typical day like for you?
For my TV sound editing work, I have a diligent 10-hour work schedule per 22-minute show. Within this time-frame, I organize the session, edit the music, edit the existing SFX from editors, cut in ambience, perform a spotting session for missing SFX, and finally (the fun part) cut in foley. The ambience and foley is kept natural and organic sounding since I mainly work on reality/documentary type programs. Since I start my day at 6:00am, this workflow allows me to turnover an organized session to my mixer by 9:30am, which allows him to begin dialogue editing, and by the time I'm done with the SFX edit, he can begin mixing the show. This work is performed on-site at the TV company I work at.
Now if we are talking about my non-TV work, then there is no such thing as a "typical" day. The other day I was at the L.A. 5K marathon recording the sound of thousands of runners on wonderfully quiet streets that were blocked off around Dodger Stadium. A month ago I was recording a baby's vocalizations for a short film I'm currently finishing the mix on. And since October 2014, I've been sound engineering part-time at Animated Storyboards in Los Angeles, one of the largest full-service animation providers for commercial and advertising production. I handle everything from VO recordings to sound editing/design/mixing animatics with tight turnarounds (sometimes I'll design a 30 second spot in 5 minutes). This wide range of work keeps my creative mind actively challenged and ultimately fulfilled.
What are your top 5 films of all time?
Everyone who asks me this question always gets a different response since I tend to judge films based off of their ability to tell a great story, and there are truly hundreds of amazing films out there that I could praise for hours on end. But since we are talking about sound, I'll name 5 films that have greatly influenced me in the way I approach sound design:
1. Eraserhead – The anxiety inducing sound design of this film is so unique and a great reminder of how breaking conventions can really provide a memorable experience.
2. No Country For Old Men – I've always been a fan of Skip Lievsey's sound work, and this film's bold choice to exclude music provided a story to be told solely with diegetic sound. For me, this type of work earns my highest respect for it requires a masterful sound designer capable of enhancing a story with the utmost attention to detail, as every sonic choice (reverb length for gunshots, ambience types, foley, etc.) will be responsible for guiding the emotions of the audience.
3. Stanley Kubrick's 2001: A Space Odyssey – The voice of HAL 9000, the use of silence, the poetic score… There are so many elements that make this movie experience unforgettable.
4. Eternal Sunshine of the Spotless Mind – Michel Gondry twists the medium every which way using his original style of directing, and the sound design for this film allows the audience to easily navigate the maze-like structure of this tale.
5. Amélie – The sound design of this film enhances the already vivid photography and fast-paced storytelling in so many ways. From the first frame to the last, it's just candy for the ears.
Tell us about how the Hybrid Library fits in with your sound effects library. How do you use the Hybrid Library?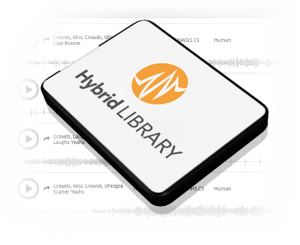 Currently I have about 4,000 SFX in my personally recorded library. Before owning the Hybrid Library, whenever I needed extra sounds for a project, I would take time to go out and record them or buy them individually online. Having an extra 56,000+ SFX has increased my productivity and kept costs down for clients who don't have big budgets that would enable to me record all of their sounds myself. I use it on basically every project I touch. Just recently with my sound edit for the film "Echo Lake" I implemented many of the 5.1 ambiences found in the Hybrid library; it sounded great in the theater during our final mix.
Where's the best place for people to follow your work or contact you?
Website: audioshade.com
Twitter: @audio_shade
Email: mwosound@gmail.com
LinkedIn: www.linkedin.com/in/mwosound
IMDb: http://www.imdb.com/name/nm3966559
Follow Pro Sound Effects on Twitter, Facebook, & LinkedIn for more sound designer interviews, industry news, and library releases.