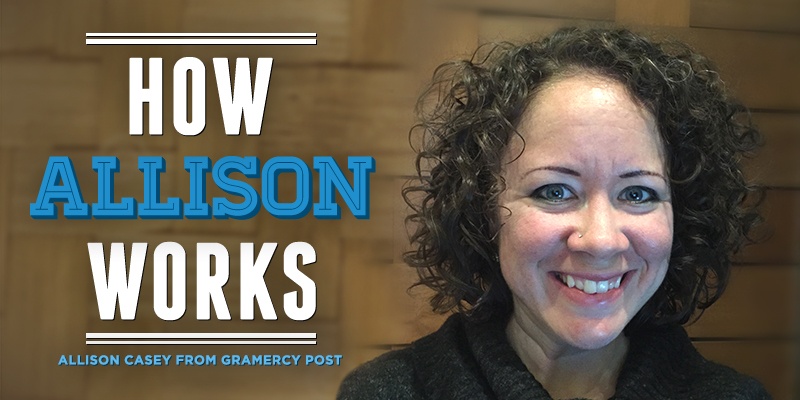 The Pro Sound Effects How I Work series (inspired by Lifehacker) asks Hybrid Library owners what inspires them and what tools and routines help them get work done from day to day.
This interview is How I Work #6 - see link at the bottom of the post for other interviews in the series.
Name: Allison Casey
Location: New York, NY
Occupation: Owner / Senior Sound Designer & Mixer
Company/Studio/Facility: Gramercy Post
DAW of Choice: Pro Tools
Most Recent Projects: Barnwood Builders (DIY), North Woods Law (Animal Planet), Love at First Swipe (TLC); Samsung, Squarespace, and Kohl's commercials; and a nice little pile of movie trailers and featurettes.
What is your current studio/workspace setup like?
• Pro Tools 11 HD on Mac Pro
• Mackie HR824 monitors
• Dangerous Monitor Controller
• Razer Imperator mouse
• A wee little PreSonus FaderPort (for the record, if someone were to make a really high-quality, modern, one-fader controller I'd die a happy mixer)
• Two video monitors for Pro Tools and a TV for picture
• I am very attached to my Dorrough meters
Before you were at Gramercy Post, how long were you a freelancer?
3 years? 4? Something in that range.
What is one thing you know now you wished you had known 5 years ago?
How to negotiate project rates better… though that also could count (to a somewhat lesser extent) in the "things I wish I knew today" category. Engineering-wise, I'm about 900 times better than I was five years ago, but couldn't peg that development to one revelation, just five more years of continuing work on many different projects with many different people, and really being critical of my own work and investing in continuing to learn and grow.
What software/hardware/gadgets can you not live without?
As a pretty in-the-box mixer, without my mouse I feel like I'm chiseling waveforms on stone tablets. I've got trim, the grabber, the cursor, the pencil tool, and delete all mapped to different buttons so I can change between them quickly without having to take the time to ensure my mouse is placed just so.
Beyond that, I find the iZotope RX Suite to be an absolute necessity and remain amazed after all these years at what I'm able to pull out of crappy dialogue with spectral repair and the utterly magical fixes de-clipper is capable of.
I deal a lot with extensive reality-tv dialogue edits, so beyond RX-type damage control I also frequently find myself going to Waves Tune and Ultrapitch, as well as the ole' TC/E trim tool to make people's phrasing and intonation sound more natural.
I somewhat embarrassingly-recently jumped on the Pro-Q bandwagon and have found it's made EQ'ing dialogue a fundamentally more enjoyable, intuitive, and effective experience.
Where do you find inspiration for your sound design work?
Lately I've been comparing mixing to sculpture, and really trying to embrace a less-is-more approach. While I haven't ever chiseled anything out of a block of marble (and if I had, it would look decidedly like a regular old rock), the idea of starting with an undefined chunk of material and having to carve out the unimportant parts to direct attention and define meaning, rather than simply piling on hoping to make something cool, really resonates with me. It's a little tougher with sound design because obviously a lot of the time you really are creating something out of nothing, but I do still find it helpful to keep in mind when I'm falling into a trap of just throwing a lot of stuff on a lot of tracks and not getting anywhere -- I take a step back to ask if it's all actually helping do what I'm trying to do, or just adding extra weight, and try to figure out what I can get rid of. It almost always yields something, if only a better direction.
Beyond that, I really try to understand the intention of the director/producer/editor at a given moment or in a given piece, and both draw inspiration from it and defer to it. If you look beyond the superficial "oh here's a boom and there's a whoosh' to 'why are those there and what's the emotion behind it and what has changed by the time the whoosh comes from when the boom happened,' you can manipulate a lot on the top to serve and enhance that underlying intent.
What's your favorite time-saving shortcut/tool?
My mouse! After that, my big thing is optimizing my workspace. My engineers at the studio can attest to how much I drill this into them -- every single time I sit down to a session I spend time making sure the right tracks are prioritized, I'm not looking at things that don't matter for the task at hand, and that the tools I'll need are readily available or already displayed. It's an investment up front but pays for itself many times over in minutes saved.
I'm also very sensitive to doing the same thing over and over when I could make one global change and only have to do it once. So I always think it's worth spending a few minutes making sure the template is totally on point for the session at hand before going blindly down a bad road, or recognizing when you're on a bad road and pausing to regroup.
What's a typical day like for you?
"Typical day"? That sounds rough. I pride myself (and everyone at Gramercy) on being really agile, so on any given day we might start out with me in a mix review, someone else running a VO session, and someone else working on a trailer, and by noon two new projects that are asking to be done by the end of the day have come in and we've all done a little do-si-do.
Somewhere in there all the administrative minutiae of billing and scheduling and responding to emails happens too, and by the end of the day we've all managed to make a bunch of stuff sound better! Same end goal, 365 different ways to get there in a year.
What are your top 5 films of all time?
1. Wall-E: Anthropomorphized robots and Ben Burtt? Yes please. It's my personal icon of complete creation in sound.
2. Drive: I really loved the manipulation of perspective with the sound design in this one and the internal/external development of the point of view.
3. Star Trek - The homage to the old sounds of the tv shows while integrating modern aesthetics was and remains amazing and perfect.
4. The Conversation: …need I say anything more?
5. The Guest: I saw this one at Sundance a couple of years ago… honestly I don't generally have the stomach for horror films but the sound was so spot on and disgusting and surprising and all the powerful, visceral things it can be, that I walked out totally exhilarated. And only slightly nauseated, I swear.
You used to primarily freelance, but you've gone on to become the owner of Gramercy Post. How has the

Hybrid Library

impacted your work over the years?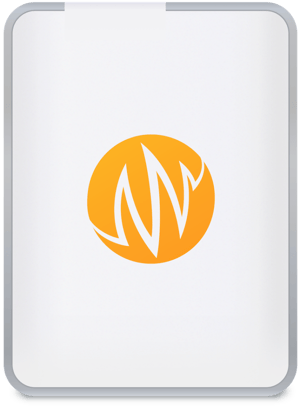 The Hybrid Library has been great because of the uniformly high quality. Because of the quick turnaround and budget limitations of many of our tv projects, it's helpful to have such wide breadth of go-to sounds and instantly be able to filter to Hybrid effects that I always know will 'just work' (or as close to 'just working' as one can get with sound design!). The surround ambiences have been particularly useful for film mixes, and have become my go-to for establishing base environments.
Where's the best place for people to follow your work or contact you?
Website: gramercypost.com
Twitter: @AlliMCasey
Email: allison@gramercypost.com
LinkedIn: linkedin.com/in/allisonmcasey
IMDb: imdb.com/name/nm3743589
Note: The Hybrid Library is available to freelancers at $1500 (reg. $3495) through Dec. 31 via our Freelancer Program - learn more and apply at prosoundeffects.com/freelancer.
Follow Pro Sound Effects on Twitter, Facebook, & LinkedIn for more sound designer interviews, industry news, and library releases!