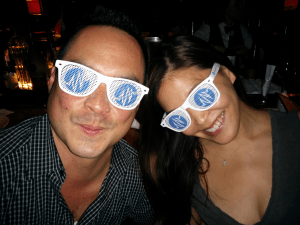 PSE pals
Team PSE is back on the east coast after a wonderful week in LA sponsoring GameSoundCon and then attending AES 137.
And yes, the rumors were true: we were handing out custom-made, ultra fly Pro Sound Effects crazy-eye sunglasses left and right.
GameSoundCon
We had a grand ol' time sponsoring GameSoundCon on Oct. 7-8. Not only did we meet tons of new people and catch our pal Stephan Schütze's FMOD Studio lectures, but we also got to hang with so many Hybrid Library owners it made our heads spin (in a good way... a very good way).
A special shout out to Filipe Mejia, who took home a free Hybrid Library of his own as one of the winners of GSC's product giveaway raffle! And did we mention we were handing out mega fresh PSE shades? Check our GameSoundCon album on Facebook for more photos.
AES LA 2014
The 137th International AES Convention was as magical as we'd hoped it would be. Though we weren't sponsoring this time, we got to take a bunch of meetings and check out all the sessions our hearts desired. We also attended the iZotope Ozone 6 release party which was awesome. And, oh yeah... more PSE shades.
| | |
| --- | --- |
| | |
| | Jeremy & Douglas with Dave Hill Jr, Matt Hines, & Kim Pfluger from iZotope |
A million thank yous to everyone who came out to these trade shows, especially to those of you who stopped by the Pro Sound Effects® booth at GSC. Be sure to keep up with us on Facebook, Twitter, & LinkedIn for all PSE news and announcements - we've got some big things coming up this month so stay tuned!
And, hey, if you've made it this far we have a Next Level surprise for you: follow the instructions below for 5 free downloads from the Pro Sound Effects Online Library. This code expires Oct. 31, 2014 so don't snooze!
Create Account, Enter Code: PSEBLOG1014
Search, Preview, and Download
:)