by Jeremy Siegel
Why Wait for Hollywood? Academy of Art University provides aspiring directors with a fully-staffed, student-operated, in-house post production facility.
Film buffs have long enjoyed unearthing the home movies and student films of their favorite directors, marveling at how future cinematic icons brought their ideas to life with limited budgets and resources, often scraping by on mere wits and favors. Academy of Art University (AAU) in San Francisco realized it had all the necessary resources and talent to help a new generation students uplevel their projects by collaborating with a full capability, in-house, audio post production facility. What they've created sets AAU apart from most film schools, an active working environment that more closely resembles real-world industry experience.
AAU's School of Music Production and Sound Design for Visual Media (abbreviated as MUS on campus) is the last step between instruction and employment for students interested in scoring and composition, sound design, and audio engineering. The program provides these students with the fast-paced real-world experience of working on films, TV commercials, and a countless array of creative projects, complete with tight deadlines, big challenges, and unlimited collaboration opportunities.

In terms of being in the center of the action, San Francisco holds its own with LA and NYC. Since its founding in 1929, Academy of Art University has steadily grown to become one of the largest private, accredited art and design schools in the nation. In-person students enjoy the Bay Area as their campus, a city shared by some of the world's top film, TV and animation studios, advertising agencies, and game developers. Online students can access the same world-class curriculum and resources from just about anywhere on a flexible schedule.
By the time students are accepted into MUS, they have already completed undergraduate prerequisites ranging from film theory and production basics to certification in the tools of the trade. The Academy is an AVID Learning Partner school, offering classes on a wide range of industry essentials, including ProTools, FMOD, Wwise, Unity, and professional-grade sound libraries from Pro Sound Effects.
"All of our resources, including the Pro Sound Effects library, are housed locally on a network and accessible from any computer in that classroom or any of the associated labs that go with it," said MUS director Brad Hughes. AAU's local network provides students with access to everything they need to deliver professional-level results.
---
---

Once all the sound files and search tools transitioned to Cloud-based computing, more people could have simultaneous, around the clock access, from more places. So when the pandemic hit in 2020, PSE was able to provide a bit of a lifeline to keep the school's audio program in operation, with cloud-based access to their sound effects library. This feature helped make sure the school was well-equipped to transition to a primarily remote learning experience, keeping the creative wheels turning wherever students were now located.
Academy of Art University has a custom license agreement with Pro Sound Effects which allows all students to access their sound library as part of their tuition -- both locally and in the cloud. The result is that on day one, students enter the audio post-production world at MUS ready to take on projects, whether they're on-campus or online.
The in-house post team primarily supports projects from the "Big 3" partner schools -- The School of Motion Pictures and Television, the School of Game Development, and the School of Animation -- but they're set up to finish work from just about any discipline. "We certainly do other collaborations with other media creator departments as well, the Academy of Art University is a pretty big school," Brad said. "We have 22 different majors, everything from graphic design to fine art painting and illustration. We also do a lot of work with the School of Advertising."
When a project comes in, MUS students divide and conquer, with the music team focusing on scoring and composition and the audio team creating fully immersive sound edits and design. Collaboration is key, whether in a supervised classroom setting or when students organically work on projects on their own. In both in-person and online classroom settings, a professor typically acts as the supervising sound editor and will guide the audio team to keep projects on track.
"Collaboration is key, whether in a supervised classroom setting or when students organically work on projects on their own."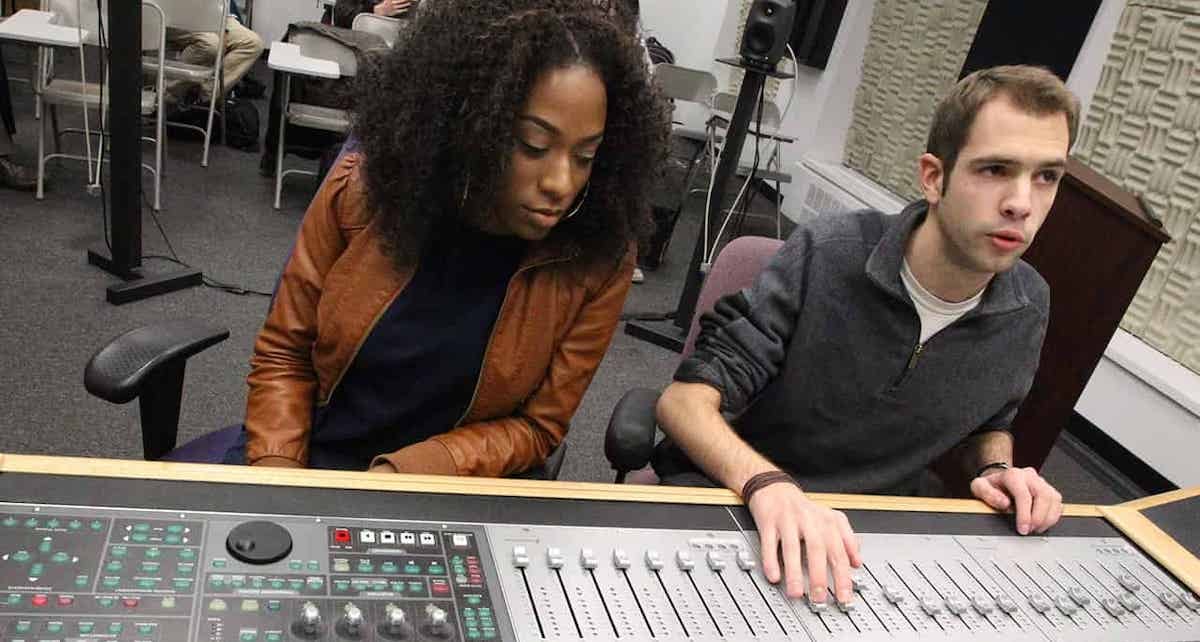 AAU professors are industry pros themselves, experts in their field who work full or part time in the discipline they teach. In order to teach students to work professionally, it's super important to have professional resources like Pro Sound Effects on hand as an essential tool to guide students' technical proficiency while strengthening creative thinking. "One of the key skills we teach, in addition to editing, is audio asset management -- making sure that students are familiar with tools that are available and how to use them in creative and interesting ways," Brad tells us. "Sometimes sound design is a real one-to-one relationship, it's very practical, and the director just says, 'see a dog, hear a dog.' Other times there's an opportunity to be way more creative and interesting and manipulate sounds in unique ways that are driven to connect to a particular emotion. Storytelling and emotion are really the heart of what we're trying to do here."
MUS students also learn the difference between linear and adaptive sound design. In a TV show or movie, the sound you hear at any exact moment in the story is always the same, no matter how many times you play it. If there's a gunshot at 1:15:43 in the movie, it will always be there -- when played on the silver screen, TV, or a phone. But in a video game, choices made by the player typically dictate the audio action -- what type of gun was selected? How often is it fired? At what? Where on the screen? Under what conditions?
Considering the full potential a soundtrack may have on game play or as a plot point or punchline in an animated feature, Brad says it often best serves the story to get input from the sound team as early as possible during a project. "We love it when our sound and music teams can get involved in the creation of whatever the project is." But if MUS doesn't join the project until much later in production, that's OK too, they will still work their magic to deliver the best possible final product.
"When the pandemic hit in 2020, PSE was able to provide a bit of a lifeline to keep the school's audio program in operation, with cloud-based access to their sound effects library."

Student project using the Pro Sound Effects Library
All student projects wind up in portfolios and demo reels that graduates will use as their calling cards while seeking employment opportunities in a wide variety of industries. "The skills of audio production and music creation, and scoring and composition as it applies to soundtracks, is applicable to an ever expanding world of entertainment media," said Brad. "Whether you're talking about film, games, animation, online content -- that's like a short little web series -- or even something like a motion graphics installation at a museum. There are opportunities for sound design anywhere sound combines with visual imagery, narrative storytelling, or projects that are more abstract in nature."
Beyond MUS and the Big 3 Partner schools, more and more students across campus are taking electives and experimenting with the sound effects library. Sound effects are often used by aspiring producers in all genres of music; they are especially popular in hip hop sampling. Fashion students use the library to create the soundtracks for next-level runway presentations and related events.
Every year, Academy of Art University hosts an annual spring show where each department selects the best student work and presents it to students, families, and invited industry guests. This showcase is a huge opportunity to be seen by potential employers and make the leap from AAU to a prosperous career in creative industries with unlimited possibilities.
As students prepare for careers in the outside world, Brad underscores the importance of mastering sound effects usage as an essential tool of the trade. "If you're going to work in this industry, you need to understand what sound effects libraries are and how to use them effectively -- and also quickly. We tell our students, 'professional sound designers in the industry are generating content for films, TV shows and games using this tool; and now you have the opportunity to use it for your own projects.' Quite often, a good reel will lead to an interview and then an audition, where the employer will simply say, 'OK, I want you to cut sound effects into this scene. It's two minutes long, I'll be back in an hour.'"
---
Learn more about the MUS program at Academy of Art University.
Explore the full range of Pro Sound Effects Solutions for professional and academic use.